We are very excited about the new Drivemission system. The Drivemission turns (or drives) the seed meters and also regulates the seed population (or spacing). This is a new drive and transmission system built exclusively for Ksfarms. All wheel drive planters built by Ksfarms will include the new system. It will set our planters apart from the competition.
​
The planter transmission is built between the arms of the drive wheel. It makes for a very neat and compact drive. No extra bar space needed for transmission. ​​Unlike the older styles, this will free up the end of the bar so that markers or bar extensions can be added.

​​​Sprockets can be changed without any tools. Loosen chain tension by hand and slide the correct sprocket in place. A population chart will be included to choose which sprockets are needed for a certain seed population.

Drive wheel takes up very little tool bar space. It is bolted on and can be repositioned on bar if wanted. Row units can also be placed to narrower or wider spacing if needed​​. Previous models used the factory JD wheel which was much wider and bulkier. Made to carry the weight of 12 and 16 row planters, it was over kill for smaller planters. The new system also eliminates the counter shaft and bearings needed for the old system.

Like mentioned earlier, all Ksfarms wheel drive planters will include the Drivemission system. For those who want to retrofit their older planters, or have access to John Deere row units and want to build their own​​ planter, Ksfarms will offer the Drivemission only. It will include all necessary parts and hardware to mount on your 7"x7" bar. It will be fully assembled and ready to use. Held on by two U-bolts (included). Price for the system only is $1250.

​​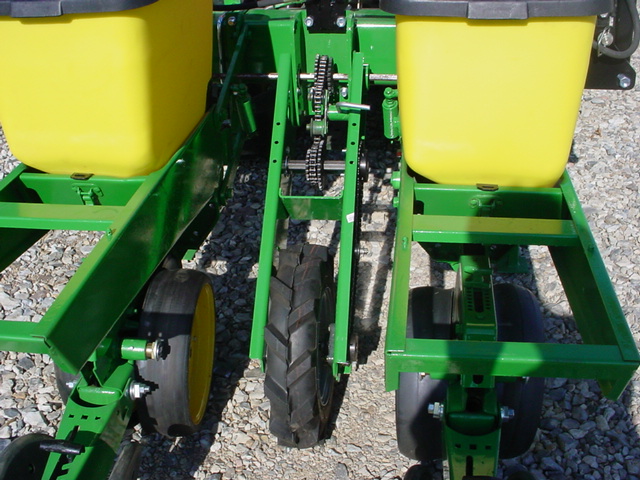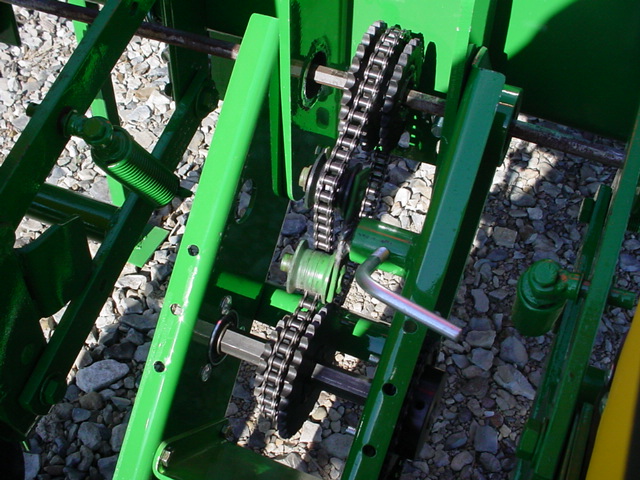 Another "Ksfarms first" is the hydraulic drive with adjustable relief valve. Others have tried this without the valve. You really need the valve for 2 reasons. One, adjustment. You need the adjustment to vary seed population. Population is adjust by the turn of the handle. And two, relief. Most compact tractors have an open center hydraulic system. You can not close oil flow without the excess going somewhere. The relief solves this and will work with both open and closed center hydraulic systems. Your tractor has one or the other.

When purchasing a planter from us, there is no charge for opting to go with hydraulic drive over the wheel drive.

We also offer a hydraulic drive kit with mounting hardware and all necessary components, fully assembled, to adapt to a planter you already own. Price $1250.

What do I need? Hydraulic or wheel drive?

Hydraulic drive pros and cons vs wheel drive:

Pros: Hydraulic drive is fully infinitely adjustable. It will turn the seed meters from a stop to as fast as you want to go. No sprockets to change. No drive tire to maintain. Rows can be slid closer together since there is not a tire.​​ Another plus, seed spacing and seed dropping can be check from the tractor seat. You can raise the planter while driving and the meters will still turn until you shut off with your tractors hydraulic lever.

Cons​​​: Really the only con is that the meters are going to turn the speed it is set at regardless of ground speed. With the wheel drive, meters turn faster the faster you drive. With the hydraulic, the meters will turn the speed they are set at regardless of ground speed. You should try to drive the same speed while planting. If you are not going for yield or if you don't need the exact same population every time, the hydraulic is fine. It is also very simple. A great choice for food plots. A lot of small tractors do not have hydraulic remotes so the only choice than is the wheel drive.

​
​​Summary: Both drives will do an excellent job. If you have further questions, please do not hesitate to give us a call.

Phone: 785-799-4322​​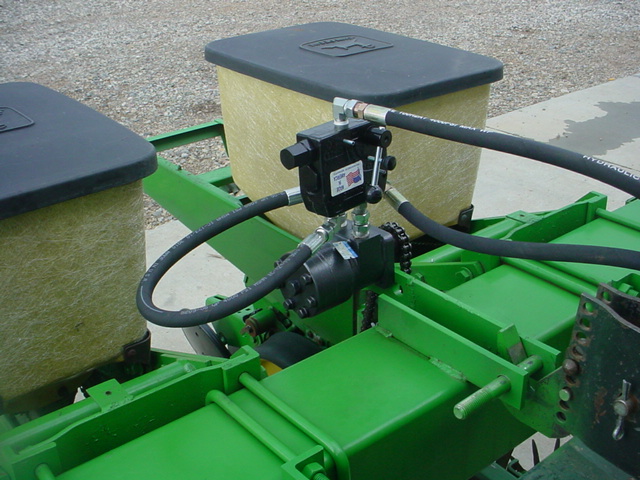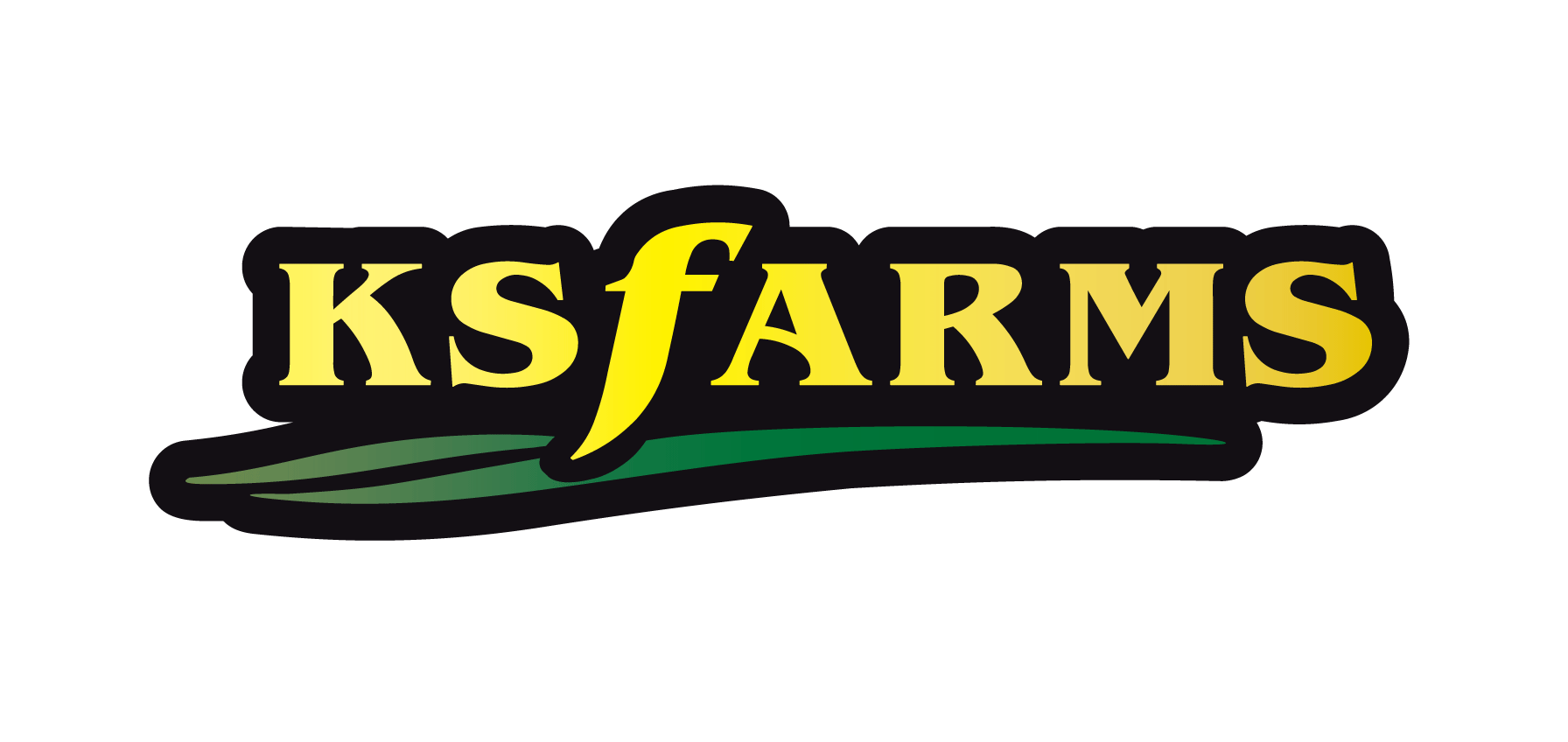 HYDRAULIC DRIVE with REMOTE CONTROL

This is like the original hydraulic drive but has a remote control box so that drive speed can be controlled ​​from seat of tractor. Sells for an additional $500 to a Ksfarms planter. Currently not offered as a stand alone unit.
New

Digital Tachometer with every hydraulic drive planter
Now with every hydraulic drive planter we include a digital tachometer and seed chart. This is used for selecting the desired shaft speed of planter. Shaft speed is adjusted by simply moving the lever on the hydraulic valve. Look at the chart to see what population or spacing you would like between seeds. And then adjust shaft to correct rpm.